As our stellar cast prepare to open Edward Albee's landmark black comedy at Tobacco Factory Theatres next week, we caught up with them to ask about the enduring appeal of Who's Afraid of Virginia Woolf? and what they thought of their characters.
MARTHA – POOKY QUESNEL
Auditioning for this part was a no-brainer.  There are lamentably few roles of this quality for middle-aged actresses;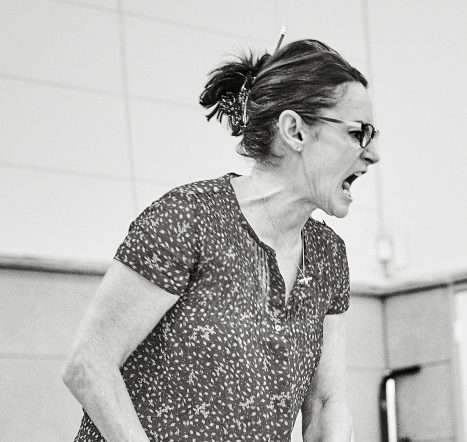 Martha is up there with Blanche Dubois, Cleopatra and Phèdre. I'm interested in digging under the surface of the 'bad girl'/'destructive drunk' image and seeing what emerges.
I would describe Martha as an Alpha Female struggling for air amid the chauvinism of 1960s American academia – and a gaslighting, co-dependent marriage.
This play is a timelessly brilliant study of a co-dependent and mutually destructive relationship – and it's incisive and savagely funny.  An emotional roller-coaster of love and hatred, hope and heartbreak…Fasten your seatbelts.
GEORGE – MARK MEADOWS
The play is a modern classic – darkly humorous, it mordantly burrows into
the heart of the human condition. George is up there as one of the coveted roles for an actor of my age. He is a disappointed dreamer.
I feel there is an onus on theatre, and art in general, to both entertain and challenge. Hopefully the play will make people laugh, while taking them to places they wouldn't necessarily go on a daily basis!
NICK – JOSEPH TWEEDALE
For me, the story of this play centres on the different realities we all live.

When they collide, does it cause a merge or does one reality consume the other? Imagine living in a reality which is controlled by someone else, or having your reality exposed as fake? Albee makes the audience question what is true or false.
Nick is outwardly confident and ambitious, but deep down he feels more like a lost boy than a grown man.
Being partnered with Wiltshire Creative, having David Mercatali back in the director's chair and Anisha Fields back as designer, I'm sure we'll all be transported to a different reality with this show!
HONEY – FRANCESCA HENRY
I was so keen to audition for this role because the play is iconic!
Honey's
role in the play is so deceptive. Amongst all this exciting, bitingly sharp wit, humour and verbal snaring she is easy to dismiss as fluffy, until suddenly she pings into the foreground and you realise that she's as complex as the rest of them – just not so ready to spar with her pain.
Basically, Honey is someone in need of a good hug! I think people should come to see Who's Afraid of Virginia Woolf? so as to learn how not to behave in a marriage!
---
Who's Afraid of Virginia Woolf? runs at Tobacco Factory Theatres from Wed 19 February – Sat 21 March. Visit the main show page for more info about the production and to book.
Posted on 14 February 2020