Hot off the press! Don't miss what's being said about our current production of Who's Afraid of Virginia Woolf?
Have a read of some audience responses shared via social media, as well as the official press reviews. We've also been left some intriguing feedback on our blackboard post show…
Visit the main show page for more press reviews.
From the press
THE TIMES ****
"This fine revival by David Mercatali still packs a considerable punch, with a stripped-back, no-holds-barred production and excellent performances from Albee's quartet of combatants"
Broadway World *****
"A magnificent production of this classic complex masterpiece"
UK Theatre Web *****
"Played in the round, this is almost an immersive experience. Brilliant."
From our audience members
Saw this yesterday: I was mesmerised by the stellar performances and the 'in the round' setting which made it all the more compelling. Loved the venue too – my first visit to the Tobacco Factory but definitely not my last! Thanks & huge respect to all the cast and creative team. https://t.co/ERF3NB5Z3z

— Helen Hewitt (@helen_rmn) March 1, 2020
#whoseafraidofvirginiawoolf last night: hideously, brilliantly claustrophobic and in the round @tftheatres @DavidMercatali Astounding performances. Words like shrapnel. Helluva hangover. Immerse yourself in this if you can.

— Jo Plimmer (@PlimmerJo) February 26, 2020
?@tftheatres? #WAofVW outstanding! Another gem in the #Bristol scene – catch it if you can. It won't disappoint. Brilliant. Brutal. Exhausting. pic.twitter.com/E90vLzxcfp

— Ewen Macgregor (@ewenmacgregor) February 25, 2020
Well done to all the team involved in #whosafraidofvirginiawoolf @tftheatres feel exhausted from watching such fantastic performances. Like looking in on a crumbling world and being taken on the journey with them.
Go see for yourselves while you can!

— Lizzy Stephens (@Lizzy_Cummins) February 25, 2020
Those better versed in famous works of theatre (all of you) will already know it's a phenomenal play, but worth saying what a brilliant production of Who's Afraid of Virginia Woolf it is that's currently @tftheatres.. & the cast are incredible. Power-house performances all round.

— Danann McAleer (@DanannMcAleer) February 25, 2020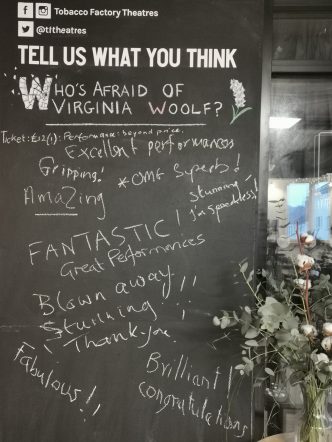 ---
Not yet confirmed your attendance at this most infamous after party? Head over to the Who's Afraid of Virginia Woolf? main show page to book.