We're delighted to see audiences young and old charmed by our Christmas show, as it takes us all on an adventure to a mystical land of snow and magic.
The Snow Queen is the perfect wintery folk tale with rich acoustic music and plenty of humour to tickle all ages, perfect for children aged 5 years + to enjoy with their families. As Bristol Post puts it "guaranteed to capture the hearts of the youngers, and enchant the more mature".


catch a glimpse of The Snow Queen here…
---
This heart-warming tale has been captivating all, with dazzling reviews from Bristol Post, Bristol 24/7, Bristol Parent and others…
★★★★★
"Self-aware, whimsical and warming, this is a show which can really make you believe in magic"

– The Fix Magazine

★★★★★
"… a five star show that delights and inspires. It's what live theatre at its best is all about."
– Rapscallion Magazine
★★★★★
"You couldn't find a better way to start your Christmas than this hygge hug of a production."
– Stage Talk Magazine
★★★★
"…full of fun, music and magic."
– Bristol Post
---
Has The Snow Queen enchanted you yet?
There's still time to make the journey to the frozen north with performances until 15 January. Although tickets are flying fast – so make sure you book quickly…
Why not join us for the adventure?
"Travel to the North Pole via North Street in this heartwarming and heartfelt show" – Bristol 24/7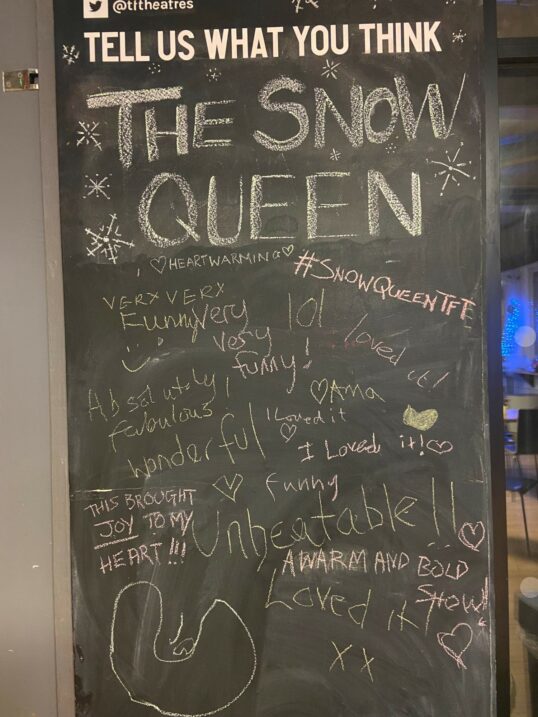 Posted on 15 December 2022