About
Bored at home with nothing to do, Nora is sent out to play in the garden in search of a tiger.
Have your imaginations at the ready as our story unfolds and we see Nora's world grow around her.
Following sold out, highly acclaimed tours, Flock Theatre Makers will be bringing their musical-theatre adaptation of Lizzy Stewart's award-winning children's book 'There's a Tiger in the Garden' to Bristol this Autumn.
Using puppetry, imaginative design and music – audiences are invited to join Nora as she discovers dragonflies as big as her head, plants that can eat you (and your toy giraffe) whole, a polar bear that likes fishing and maybe, just maybe, a tiger in the garden. Exploring the power of the imagination, we invite families to follow Nora as she discovers the wonders hidden beyond the shrubbery. Come and listen, play and enjoy the brilliance of this story brought to life.
Working closely with the author, this much loved book has been turned into a theatre piece which promises fun for all the family.
Created for children aged 3-7 and their grown ups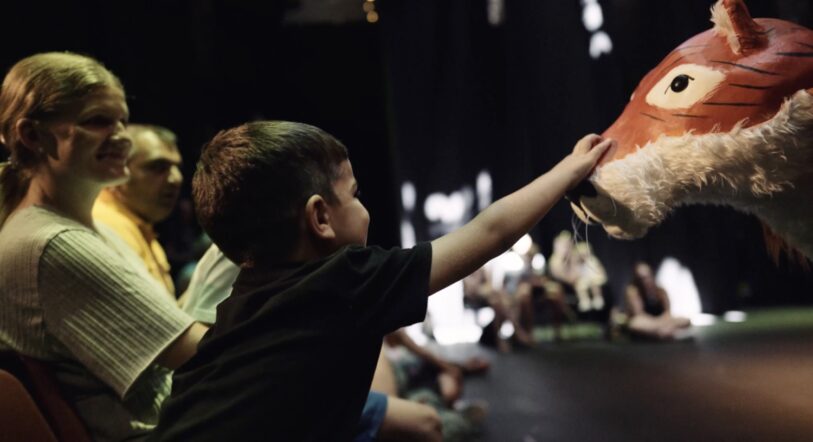 ---
Flock Theatre has a combined 40 years experience creating performance and participatory work for a range of different organisations including The Royal Shakespeare Company, the Old Vic, Glyndebourne Opera and Unicorn Theatre. Their work focuses on creating innovative, multisensory events for children, families and communities because everyone deserves access to high quality arts experiences. They are a devising company consisting of Emma Higham (director/writer) and Freya Wynn-Jones (performer, composer).