joining us for a year as we embed artists & freelancers within our organisation to be part of our decision-making processes.
---
YOMA SMITH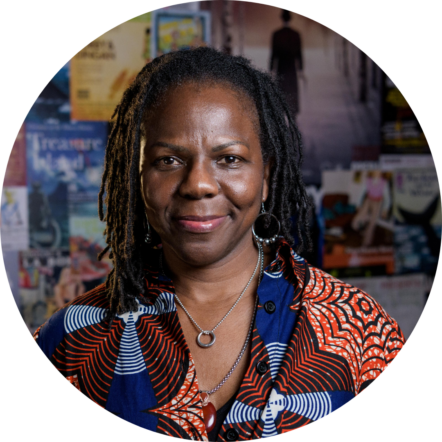 After several years in marketing communications, Yoma has been developing her creative practice – increasingly learning, presenting, writing and performing content on heritage, identity, diversity, social & environmental justice and self-empowerment.  "I am thrilled to be appointed as a Tobacco Factory Theatres Resident Artist. It's a transformative opportunity to develop and collaborate in a dedicated space and community.
---
stef o'driscoll
"Oi oi hello. I'm Stef. I am a storymaker. I support humans to tell stories. Usually new stories about the world we are currently living in, trying to make sense of it all. After recently moving to Bristol I am well excited to call the Tobacco Factory Theatres my artistic home. I'm looking forward to seeing how I can serve Bristol with my story-making ways. It's an exciting time for change and re-building and the TFT team is up for listening and leading the way and I'm hyped to be a part of that."
---
RYAN MURPHY
"I am a creative juggler and theatre maker, exploring circus theory within theatrical worlds. Born with a degenerative hearing loss, I am drawn to visual and physical artforms, with an innate passion to tell silent stories. I am very excited to join the programme to make new collaborations in the pursuit of innovative new work!"
---
GILL SIMMONS
Gill is a Bristol born, cis-female, working class solo parent and proud to be descended from a great-grandmother who was a circus tightrope walker. She makes theatre, music, sound designs and community art events. She's the artistic director of Brave Bold Drama, a theatre and community arts company based in Withywood.  She's excited about building long-lasting pathways between Tobacco Factory Theatres and the Hartcliffe & Withywood communities during her residency.
Posted on 21 December 2021